Marketing personalization can offer brands a competitive advantage by creating more engaging customer experiences. "Today, marketing is no longer about grabbing attention, but about creating real connections, building that emotional resonance, and spurring action throughout the customer journey," said Nina Butler, Director of Event Experience at Alyce, in her presentation at our MarTech conference.
Brands make more contacts with customers than ever before. The average number of touches during the buying process grew from two in 2006 to six in 2021, according to Butler. However, this leaves plenty of room for less than optimal experiences.
"The outreach we're doing feels a little bit like an assembly line," she said. "As automation and advanced marketing technology have made our lives easier, we've also created more processes in our workflows and, as a result, more touches."
"That means that touches are more generic and more impersonal than ever before," she added.
To address the problem of impersonal customer experiences, marketers need to place a renewed emphasis on personalization in their campaigns.
Deliver "interest" events to customers personalization
"The next time you go to plan a 60-minute thought leadership webinar or a small intimate roundtable, consider pairing it with an interest-based activity," said Butler.
As an example, Butler discussed how her company hosted an event that had both business and kid-friendly content featured in separate sessions. Catering to employees with children in this way allowed attendees to be their whole selves at work. The company listened to its employees' interests and then centered their entire corporate event around them.
Butler says marketers can do the same thing with their customers to foster engagement.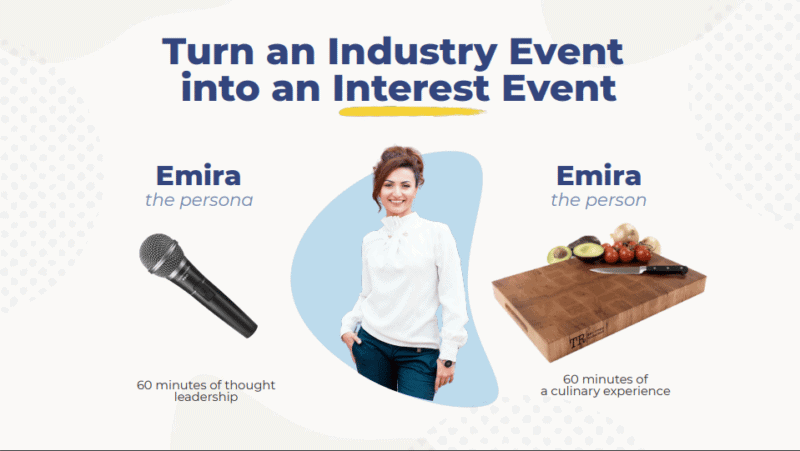 "There's something to be said about the stimulation of both people's nine-to-five personas and their five-to-nine passions coexisting in the same setting," she said.
---
---
Move from persona-based to person-based personalization
Butler highlighted the differences between "persona-based" marketing and "person-based" engagement using a fictional person named Tracy. This woman serves as the chief information officer for an enterprise and, in her spare time, loves to collect comic books.
Most brands would focus primarily on Tracy's "persona" role (CIO of a large company) but neglect the "person" aspects (her love of comic books). As a result, her inbox may be "filled with generic and impersonal touches that were automated based on some segmentation rules around her persona."
According to Butler, marketers can help improve customer engagement through person-based prospecting. Focusing on these additional qualities can provide more relevant customer journey insights. In this fictional scenario, marketers would have a better chance of connecting with Tracy by focusing on her personal interests alongside her professional persona.
Create personalized landing page experiences
"Instead of creating a one-size-fits-all landing page, try creating a custom even account-based level landing page with hyper-targeted ads, personalized video from someone on your team, and copy that's tailored to the pains and unique challenges of their organization," Butler said.
A well-documented customer journey can help marketers identify key friction points and interests that can be used on personalized landing pages. The experiences can answer questions, provide support for a problem, or offer highly relevant content customers are looking for.
Crafting customer content of this nature may seem time-consuming, but it has the potential to make strong connections with customers, especially when marketing and sales teams are working together.
"It's also really important to align sales and marketing," she said. "That way the marketing messaging that's happening top-of-funnel is served to those people in a way that mirrors what their customer experience looks like when they land on this page."
Creative connecting video experiences
"Folks who are using relevant videos, especially on these custom landing pages, are seeing upwards of 86% increase on those page conversions," Butler said. "Video helps convey who you are as a person that appeals to people in real ways."
Personalized videos, when done correctly, can show customers that brands care about their wants and needs.
"Video is an underutilized tool to help establish personal moments for people," she said. "What your brand does with video tells your prospects more than just the story of your product; it also tells the story of your brand. Most brands use video to talk to their prospects about their products and goods and services."
However, marketers shouldn't focus entirely on video in the personalization process. It's just one part of the customer journey, and it should function as so.
"Your video strategy should not talk at your prospects about your solutions, she said. "It should be talking with your prospects about what's interesting or top-of-mind for them in the moment."
She added, "Relevancy here is key."